Synergy World, Inc. has developed a unique and
innovative Patent-Pending word of mouth loyalty
program that encourages and tracks Word of Mouth
referrals for your business.
Word of Mouth marketing is the most powerful
and cost-effective form of advertising. It is the
best way to reach your target audience without
paying for expensive advertising. Now you can
implement a customer loyalty program that
rewards your existing customers when they
refer their family, friends and co-workers.

Synergy's Word of Mouth Loyalty Program can be
fully customized to suit your marketing objectives.
Please call Synergy to discuss this innovative marketing technology in more detail. (858-569-8842)
***NEW***
Cardless WOM program, exclusively from Synergy World, Inc.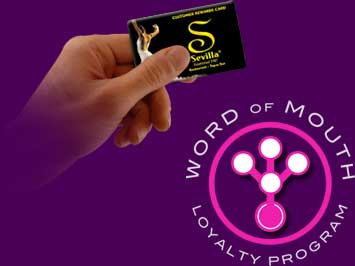 14% of the population says they trust advertising versus 92% who say they trust word-of-mouth.




Word-of-Mouth is fast becoming a
globally accepted and measurable
alternative to gain brand equity in a
space dominated by PR and advertising.


The Millward Brown Study
April 17, 2009






Reward program members are 70%
more likely to be word-of-mouth champions than non members.